1921 – 2021
A Century of Tradition

The Pipes and Drums of the Chicago Highlanders were established in 1921 and are one of the oldest continuous pipe and drum corps in the United States. The band consists of pipers and drummers from various walks of professional life and is a member of the Midwest Pipe Band Association where members compete at the Grade 4 level as part of the Alliance Pipe Band.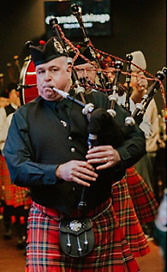 The Chicago Highlanders strive to maintain the rich traditions of Scottish piping and drumming and are led in parades by Drum Major Chris Bjorkman. The band meets every Thursday at The Presbyterian Church of Palatine from 7:00 PM to 10:00 PM, with the first half hour dedicated to student instruction. In the tradition of pipe bands across the world, and to pass on the craft to future generations, bagpipe and drum lessons are free to all interested and conscientious persons, regardless of age or skill level, who aspire to join the band. The rest of the time is dedicated to band practice, either in individual groups or as a single unit.
The Chicago Highlanders are available for hire. We have many years of experience performing at a wide variety of venues including parades, concerts, weddings, and funerals. We welcome the opportunity to turn your event into a memorable occasion. To hire the band, or to arrange for a solo piper or any combination of pipers and drummers to play for you, please contact our band manager.